Zoo animals
Zoo animals from approved countries can be imported into New Zealand under strict standards and regulations. MPI checks that importers comply with biosecurity measures and testing procedures.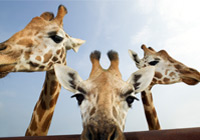 Import health standards
You can only import certain species of zoo animals to New Zealand from approved countries. Browse the list of zoo animal import health standards.
---
Importer responsibilities
The increasing volume of trade and travel is placing extra pressure on our biosecurity systems. New pests and diseases can affect human health and also damage agriculture or horticultural production, forestry, and tourism, as well as making it more difficult to trade in international markets. Importers are among the most important people in defending against potential biosecurity dangers.
Who to contact
If you have questions about importing zoo animals, email animalimports@mpi.govt.nz.